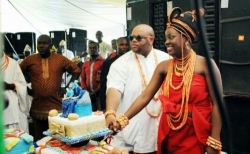 The royal wedding between Prince Osama Erediauwa, the son of the Oba of Benin and Miss Patricia Ediri Ebbah took place on Saturday, March, 15 at Firm Foundation Ministries at the Edo hotel premises, GRA Benin City.
The occasion was graced by dignitaries from all walks of life including Governor Adams Oshiomhole, representatives of Governors of Akwa-Ibom, Ondo, Lagos, Deputy Governor of Edo State, Ambassadors and the Esama of Benin and Romanian Consul to Edo and Delta States, Sir, Chief, Doctor Gabriel Osawaru Igbinedion.
See more pics after cut.....