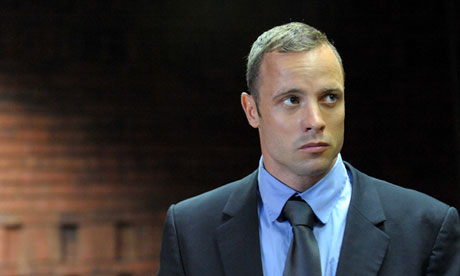 The judge at the Oscar Pistorius trial has ruled that the double-amputee will be sent for psychiatric evaluation after an expert said that he suffered from an anxiety disorder that gave him 'hyper-vigilance'.
Psychiatrist Dr Merryll Vorster, for the defence, said that Pistorius' condition is linked to his disability and meant that he was prone to fight, rather than take flight, in the presence of perceived danger.
If Pistorius' condition is found to have played a role in the fatal shooting of girlfriend Reeva Steenkamp in his home on February 14, 2013, then he may escape a murder charge.
It means that the trial - already on its 32nd day - will be delayed.
Judge Thokozile Masipa said the court would hand down the details of the assessment on Tuesday, adding it would be preferable for him to undergo the evaluation as an outpatient.
The decision on Wednesday by Masipa followed a request for a psychiatric evaluation by the chief prosecutor, Gerrie Nel.
Nel questioned why the defense decided to ask Dr Vorster to testify on behalf of the Olympic runner.